Sun City Biz Website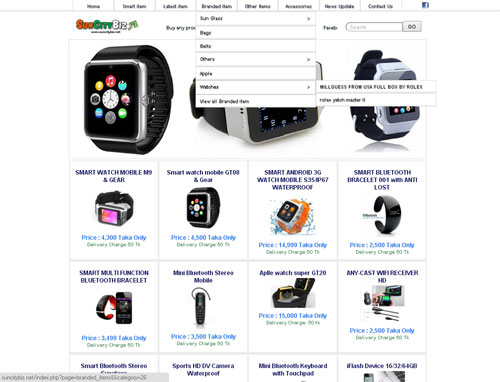 Sun City Biz Website
Sun City Biz is a well reputed importer and distributor of all kinds of computer and electronics products. Sun Tech City was established in 2009 by a group of enthusiastic and energetic people who wants to introduce the latest electronics and computer technology to the people.

We assist our clients in identifying their entire technological needs. We conduct system studies to help our clients choose the products according to there needs.

As we, the citizens of Bangladesh and denizens of the global village, we move on relentlessly towards the twenty-first century, we would like this message to echo in a fresh and exuberant era for Bangladesh in the fast and ever-evolving area of technological breakthrough.

We have a rich collection of quality products like Galaxy Tabs, Tablet-PC, Mobiles, Lap-tops, Notebooks etc as well as a very vibrant collection of hi tech gadgets like Spy-pen, Spy-watch and Digital-books etc.